ACTION ALERT! Time sensitive!
⇒Support the Senator Paul Simon Study Abroad Act
JNCL-NCLIS advocates have made the Paul Simon Act one of their top priorities in the 116th Congress, and we are excited that the Simon Act has once again been introduced with bipartisan support in both chambers of the U.S. Congress. The House Education and Labor Committee is expected to release their draft legislation to reauthorize the Higher Education Act in the coming weeks, so now is the time to focus their attention on the importance of international education and study abroad.To build support for study abroad and the Simon Act, NAFSA and JNCL-NCLIS are asking supporters to take three quick actions:
3.Share the Connecting Our World Link to your networks to ask your members and colleagues to join you in sending an email to their Representative in support of the Simon Act. https://cqrcengage.com/connectingourworld/study-abroad
https://www.languagepolicy.org/post/paul-simon-study-abroad-act-introduced-in-the-house-of-representatives
AND..
⇒Contact your representatives in support of the WLARA act (World Language Awareness and Readiness Act), in support of quality world language programs in elementary and secondary schools. Ask your representative to join the bipartisan effort to co-sponsor this bill and ask your senators to consider a similar bill in the Senate.
Read more about the bill here: https://docs.google.com/document/d/19e-vQhrjA5S483P5aYHdYNN4dwB7RLr-8_C7SubXI1w/edit?usp=sharing
WASHINGTON, D.C., FEB. 14, 2019 – Over 160 world language advocates –from business to education– gather in the nation's Capitol today, February 14, to meet with members of Congress for
Language Advocacy Day
, an annual summit of administrators, educators, and language industry leaders organized by the
Joint National Committee for Languages (JNCL).
WE ARE ALL ADVOCATES!
 "A world language education beginning at the elementary level is a civil right, and to deny a child access to world languages is to deny them access to a world class education and a world where global collaboration is the key for combating hunger, disease, climate change, terrorism, and economic instability. We are all advocates."
Dr. Edward M Zarrow, 2016 ACTFL National Teacher of the Year
"I'd ask that we consider all the countless small actions we can take as advocates to be just as important as the big actions we're taking right here [at Language Advocacy Day]. And I'd like to invite all of us to adopt an ongoing posture of language advocate–and through constant, ongoing actions as often as possible, I hope we move from language advocates to seeing ourselves as language activists." -Dr. Jay Ketner (Wayside Publishing) at Language Advocacy Day 2019


Why Learn Languages?
Important new initiatives and reports provide data and research to support your advocacy efforts:
The Wisconsin Language Roadmap has been published! 
See the report here: The Wisconsin Language Roadmap  and then share the strategic goals and recommendations that will enhance the economic competitiveness and vitality of the state by preparing all Wisconsin students to be workforce-, community- and world-ready through language, intercultural and global learning.
 In March, 2017, ACTFL launched its national language proficiency awareness and advocacy campaign and website, Lead with Languages. This multi-year campaign aims to build awareness about the increased demand for language skills and supports the growth of learners who are competent in other languages and cultures. Check out its website, follow @LeadWLanguages on Twitter or send out your own #leadwithlanguages tweets, or download a badge and put it in your email signature, LinkedIn, or wherever you see fit.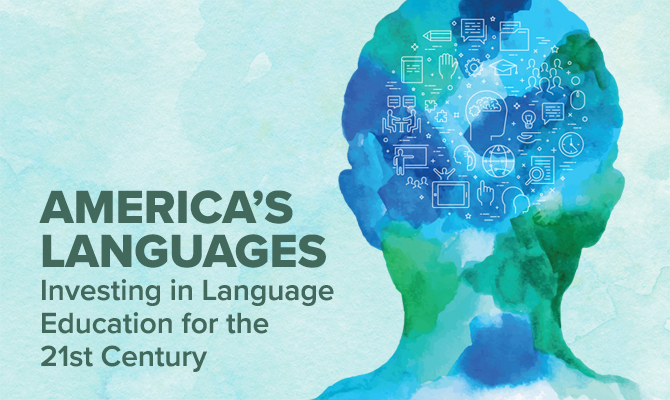 America's Languages: Investing in Language Education for the 21st Century. In 2014, a bipartisan group of members of Congress asked the American Academy of Arts and Sciences to undertake a new study of the nation's language education needs. Four members of the U.S. Senate, including Wisconsin's Senator Tammy Baldwin, and four members of the House of Representatives requested that the commission answer the following questions:
 This is the first national report