DID YOU ATTEND THE 2018 WAFLT CONFERENCE? Spread the news!  Download*, personalize, and share this PRESS RELEASE with your local media, administration, school district newsletter, or anyone else who should know about your dedication to professional development.    
*(Please do not make your own personal changes directly on this document so it will  remain a template.) 
Find the press release here: http://bit.ly/WAFLT_PressRelease2015
STAY INFORMED!  
https://www.actfl.org/advocacy
http://www.csctfl.org/committees/advocacy/index.html
http://www.waflt.org/public-relations/pr-resources/
 http://www.languagepolicy.org/
TAKE ACTION!
Email and phone calls count! Sign up for the JNCL-NCLIS email newsletter to receive language news, policy updates, and language advocacy action alerts. https://languagepolicy.org/
Bridging America's Language Gap: A Call to Action–https://www.amacad.org/content.aspx?d=43111
CONTACT POLICY MAKERS!
US Senate
https://www.senate.gov/states/WI/intro.htm
US House of Representatives
https://www.house.gov/representatives/#state_wi
Wisconsin State Senate
https://docs.legis.wisconsin.gov/2015/legislators/senate
Wisconsin State Assembly
https://legis.wisconsin.gov/assembly/
                                          WE ARE ALL ADVOCATES!
 "A world language education beginning at the elementary level is a civil right, and to deny a child access to world languages is to deny them access to a world class education and a world where global collaboration is the key for combating hunger, disease, climate change, terrorism, and economic instability. We are all advocates."
                                                             Dr. Edward M Zarrow, 2016 ACTFL National Teacher of the Year 
"
Why Learn Languages?
To connect across cultural, political, and economic borders
To meet the challenges in a global and connected society
To communicate in a culturally appropriate manner with people from around the world
To possess language and cultural understanding to be productive members of our diverse communities
NEW!
Important new initiatives and reports provide data and research to support your advocacy efforts:
The Wisconsin Language Roadmap puts forward a set of strategic goals and recommendations that will enhance the economic competitiveness and vitality of the state by preparing all Wisconsin students to be workforce-, community- and world-ready through language, intercultural and global learning.
THE REPORT WILL BE PUBLISHED IN EARLY NOVEMBER 2018 
 In March, 2017, ACTFL launched its national language proficiency awareness and advocacy campaign and website, Lead with Languages. This multi-year campaign aims to build awareness about the increased demand for language skills and supports the growth of learners who are competent in other languages and cultures. Check out its website, follow @LeadWLanguages on Twitter or send out your own #leadwithlanguages tweets, or download a badge and put it in your email signature, LinkedIn, or wherever you see fit.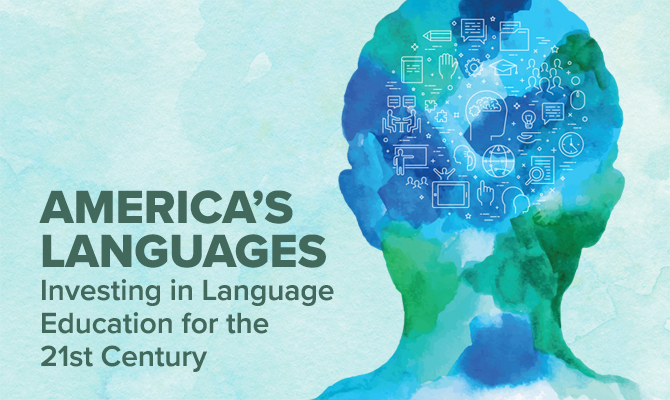 America's Languages: Investing in Language Education for the 21st Century. In 2014, a bipartisan group of members of Congress asked the American Academy of Arts and Sciences to undertake a new study of the nation's language education needs. Four members of the U.S. Senate, including Wisconsin's Senator Tammy Baldwin, and four members of the House of Representatives requested that the commission answer the following questions:
How does language learning influence economic growth, cultural diplomacy, the productivity of future generations, and the fulfillment of all Americans?
What actions should the nation take to ensure excellence in all languages as well as international education and research, including how we may more effectively use current resources to advance language attainment?                                                                                                                                             This is the first national report on language in over 40 years. Read the final report and share at #LangReport.
Not Lost in Translation: The Growing Importance of Foreign Language Skills in the U.S. Job Market released by the New American Economy, a nonprofit, bipartisan coalition of more than 500 mayors and business leaders who support immigration reform. Excerpt from this report: "Americans lose almost $2 billion each year because of language or cultural misunderstandings."https://www.newamericaneconomy.org/
PR Materials:
Path to Proficiency poster to download and print: https://drive.google.com/drive/folders/1MElFoFw7-7iu76InVIerQJ_KqGf5sbKR
Discover Languages
Discover Languages is the national campaign to raise public awareness about the importance of language learning understanding of cultures. Visit the Discover Languages website for the latest in helping Americans discover the world!